Sean Moloney is a Flute Player from Galway, Ireland. He is from a long line of traditional Irish flute players going back five generations. He is one of the few remaining musicians with the Ballinakill East Galway regional style of flute playing.


Traditional flute music from East Galway by Seán Moloney (flute)
University of Leeds International Concert Series
Date: October 9th, 2015 | Time: 13:05 — 13:55
Venue: Clothworkers Centenary Concert Hall, University of Leeds
Admission: Free

Having released a collection of his father's archival recordings which forms the backdrop for this concert, Sean will discuss the East Galway flute tradition and perform pieces from his wide repertoire. Sean plays both Boehme and simple system concert flutes as well as alto flute, tin whistle and fiddle. He is accompanied by his wife Irene on the bodhrán (a wood framed goatskin drum).

read more...
---
New Release:
Eddie Moloney: Master Musician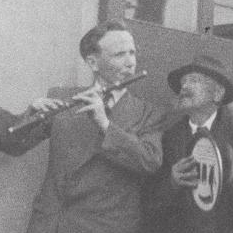 A collection of professional archival and personal recordings audio re-mastered to a high standard of Eddie Moloney playing, dating from 1947 to 1980. Compiled and produced by Seán Moloney.

read more...